The Old Railroad Bridge in the News
Excerpt from The Courier Journal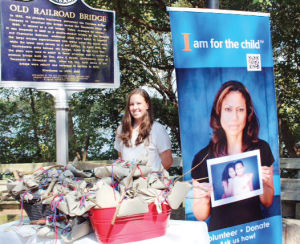 Local CASA Groups Create Shoals CASA
SHOALS – The Court Appointed Special Advocates (CASA) programs in Colbert County and in Florence/Lauderdale County officially became one organization as of last week's celebrated merger announcement at the entrance to the Old Railroad Bridge in Sheffield. The new organization will be known as Shoals CASA.

The CASA program serves children who for one reason or another cannot depend on their parents to do what is in their best interests and are going through the court system. Local judges designate volunteers to watch over and advocate for abused and neglected children. They make sure their interests are represented and that they don't languish in inappropriate group or foster homes or get mired in the legal and social service system. Volunteer advocates make court appearances speaking on behalf of the children they represent.

Volunteers stay with each case until it is closed and the child is placed in a safe, permanent home. For many abused children, their CASA volunteer will be the one constant adult presence in their lives.